Booz & Company's annual Global Innovation 1000 report provides a summary of innovation trends in the economy.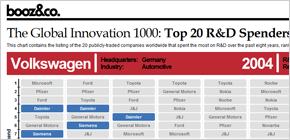 They found that R&D spending grew by over 9 percent in 2011.  R&D spending as a percentage of revenues did fall, but only because revenues grew by 13% that same year.  Click on the image to the right to see an interactive graph on the top 20 R&D spenders from 2004 to 2011.
Booz's survey of 700 companies and interviews with innovation leaders also suggest that innovation is not as esoteric a practice as it is depicted in the business press:
It's often said that the means by which companies seek out and find good ideas tend to be vague, or fuzzy, or highly variable from one company to another. Yet according to our survey, the most successful innovators in all industries have developed a variety of consistent, manageable ideation practices that are well aligned with their innovation strategies. And when moving ideas into the development stage, they tend to depend on an equally consistent set of principles and processes.
In the video below, authors Barry Jaruzelski and John Loehr talk about what the survey revealed about the innovation practices of companies, particularly how things work on the "fuzzy front-end" of creating new products or services.